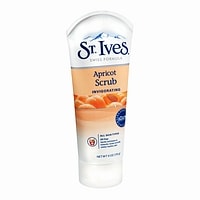 I grew up with oily skin. No, that's not right. I grew up with the dreaded....ACNE! Oh, there were some teenage years where my face was horrible. I remember using rubbing alcohol to dry out my skin! That's how bad my teenage complexion was. I became an expert at applying foundation and concealer to hide my breakouts. I rarely leave the house now without a little makeup on because of my teenage years.
Thankfully, my complexion has cleared up now that I'm in my thirties...for the most part. I'll have the occasional breakout now and again. Usually St. Ives Apricot Scrub has kept them at bay. But about a month ago, I ran out and my face broke out at the same time....gggrrr! I only go shopping once a week and I had forgotten to write it on my list. (I'm a huge list maker, don't laugh!)
So there I was, stuck with this huge red splotch and nothing to help! I was flipping through the Reader's Digest Homemade; How to Make Hundreds of Everyday Products You Would Otherwise Buy
book. (I never buy this kind of books folks, people just always give them to me!) And I found a recipe for a facial cleansing mask for oily skin.
Facial Cleansing Mask
1 packet of yeast (about 2 1/4 t.)
3 drops of lemon juice
2 t water
In a small bowl, mix the yeast, lemon juice, and water vigorously until a thick past forms. If necessary, add more water to achieve the correct consistentcy for applying to the face. Pat the mixture on the face, avoiding the eyes. Allow to sit for 10-15 minutes. Rinse off with warm water and pat skin dry.
I was kind of skeptical but thought, what the heck, I have yeast and lemon juice. Why not try it out? (I'll spare you the picture of me testing it!)
Wow! It worked really well! Almost too well. This is something I'd probably only use once or twice a week at the most. But if I'd had this as a teenager I probably would have used it every other day. I had some left over and put in the fridge thinking it would keep but no, it doesn't. I would suggest making up a fresh batch everytime.
But oh so cheap and easy! A definite must if you have a greasy, oily teenager hanging around. And I use the phrase greasy, oily teenager in the most loving way possible!