Just about a year ago I posted this picture of my great great uncle Emanual, an Indiana farmer. You can go here and read the original post (and the comment from Amber is funny too!)
Actually I had totally forgotten that I had ever posted it until I received an interesting email last week. A woman by the name of Virginia Hastings contacted me asking permission to use this photograph in a web series she is working on. I was taken totally by surprise but after a bit of research about her project and permission from other relatives I happily consented.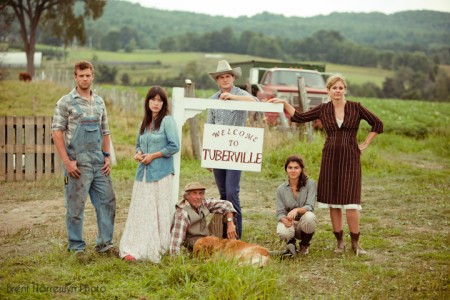 Tuberville the web series

a fictional account of
the real life Tuberville organization in Vermont. Tuberville, both in the
series and in real life, supports farmers who grow potatoes to give to food
banks.
The series will consist of eight, six to ten minute episodes that will follow the fearless Tubervillians through a year on the farm. Although the only episode up on the website is the nine minute pilot, it does a very good job at grabbing the viewers interest and telling a compelling story in a short amount of time. Perhaps they do such a good job in a short amount of time because like many real life farmers the Tuberville characters aren't a gabby lot of individuals.
Tuberville (the organization) was s
tarted on the old David B. Thompson Farm, in the fall of 2004, a small garden was tilled to provide foodstuffs for the Chittenden Emergency Food Shelf.
In 2005, Peter Perkins and his son Ralph, harvested a very modest crop of 1470 pounds of potatoes for the food shelf.
In 2006, the field was more than doubled in size and with the expansion came Tuberville. Since Tuberville has spread through Vermont and into Maine.
Ralph Perkins was kind enough to email me back and had this to say about Tuberville:
It kind of happened on its own and sucked us in. In 2004, when my father was
talking about planting a few rows of potatoes, I didn't really think about
it as something I might be doing year after year. In 2005, my daughter Kate
turned 4 and we began talking about flowers and trees. For me, helping my
dad with his potatoes seemed like a great way to begin exploring nature in a
way I could explain to Kate. By the next summer, my wife Jeannie was asking
what the fertilizing schedule needed to be and I was beginning to understand
this was more than a part-time hobby.
In 2007 there was enough interest in what we were doing to ask the IRS for
non-profit status. Although this project was still taking its first steps,
we wanted to make sure that every dollar counted. By doing this, we were
able to expand our reach to other food shelves in the area. In addition to
growing food, Tuberville's mission is to increase awareness of issues that
surround hunger. Often hunger can seem invisible, though the effects of
hunger on those impacted by it can be tremendous. Tuberville's philosophy is
not one of preaching or propaganda. We believe that anyone who decides they
want to help others in their community through this kind of project will
come to their own conclusion about this issue.
Obviously, the idea of community and helping others is not new. Neither is
the saying that communities that work together, play together. We have a
number of ways to keep in touch with folks that are on the internet. People
can take control of a row of potatoes that we grow through our Sharecropper
3.0 program or they can just follow us through our fictional web video
series about a town called Tuberville at
www.TubervilleTheSeries.com
"
Check out their website, it won't take long at all.
The Tuberville (org) is a very simple website to navigate with a very simple idea that they are trying to share; local farmers feeding the hungry in their own communities. I think it's a wonderful idea and a wonderful story that could and should be spread to every state in our country. I'm not a farmer and can't grow food to donate food banks but I support the idea of what Tuberville is all about.
I think my Uncle Emanual and various other relatives long since gone would be smiling to know that this picture might be doing it's small part to encourage agriculture, farmers and local communities to work together helping those in need. I can't wait for the rest of the episodes to get up on the Tuberville Series site; I'm looking forward to the rest of the story!