A couple of weeks ago I blogged about some of the Christmas shopping I've been doing and shared some links with some of my favorite toy finds.
Sarah commented, "Thanks for sharing! Anymore good ideas? Nothing too exciting that is new in the toy department this year I feel like and I don't want to start the video game thing yet."
I am the oldest of 7 siblings so you can probably imagine the chaos that ensues for my Christmas family get togethers. A couple of years ago my sister (who has kids around my kids' age) and I asked our siblings not to buy our kids toys because they already had so many. (Great grumbling ensued from said siblings and therefore the request has since been revoked.) There are plenty of gifts my kids have received that weren't toys that they enjoyed very much.
1. SPROUT Kid size furniture is nice. My kids never received any Sprout furniture but I found this site and sure wish my boys had some of this furniture when they were smaller! All the furniture snaps together, no hardware and stores flat when taken apart. If that's not cool enough, the different furniture pieces are interchangeable so you can create your own designs. Neat!


2. Gloves and mittens! It seems my kids are always losing or growing out of winter gloves and hats. I for one enjoy it when they've received these in the past.
3. Consumable Art supplies! My kids and I go through so many art supplies and I think they are great gifts for all kids. Especially if they receive an art supply Mom and Dad don't usually buy...like glitter glue or play foam...something that's just a little exotic is always a hit.
4. Magazine subscriptions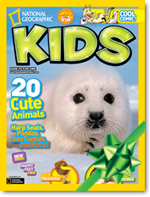 My mother in law buys my kids magazine subscriptions every Christmas. It's great because it saves her shipping big packages to Kansas and the kids get mail. And what kid doesn't enjoy getting mail? In the past we've chosen magazines from National Geographic but my favorites are Ranger Rick and Animal Baby from the National Wildlife Federation. And these have been great magazines. My kids are always pulling out old copies, even if I can't sit down and read to them there are simple words and great photos they can enjoy on their own.
It seems like every year it becomes more difficult finding good gifts for my kids that they'll really enjoy, appreciate and won't be broken a week later!
Do you have any more Christmas gift ideas to add to our list? Christmas will be here before you know it!!