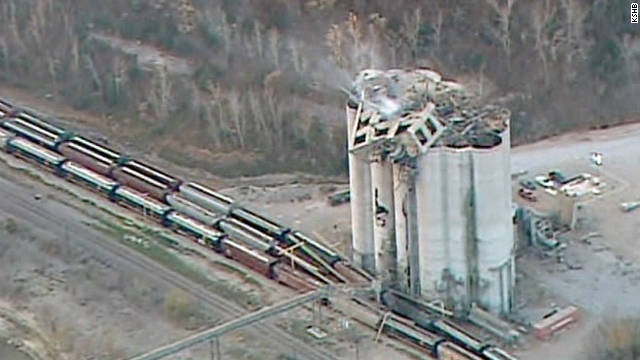 The crew was loading that train with grain when the explosion occurred which rocked the whole town. My prayers are with each and every family dealing with the injuries and three deaths that resulted from this terrible accident.
This picture just sent chills down my spine because my husband DR works at a grain elevator bigger than this one. He has loaded trains like this. He's been on top of an elevator just like this. Officials reported that the cause isn't known yet but it's highly speculated it was caused by the build up of gases and dust of recently harvested grain.
Every fall in every grain elevator it's a frenzy of activity. Farmers, employees, unloading and loading grain, late nights, weekends, early mornings. It's busy and it's scary because a grain elevator can be a dangerous place with all the equipment and activity.
When DR and I lived in Delaware our house was a block away from the fire station. I was a stay at home mom with twin babies less than six months old when, one day, a slew of fire trucks fired up lights and sirens. I remember cursing slightly under my breath, hoping the noise didn't wake up my sleeping babies. Shortly after the firemen were well on their way and my boys were still napping and it quickly slipped my mind that the fire trucks had ever made a ruckus. Much later that night DR returned from work and as soon as he stepped in the door he asked, "Did you hear the fire trucks today?" I nervously answered yes and then asked how he knew. As it turns out there had been an explosion at DR's elevator that day and the firemen were coming to battle the blaze. No one had been injured and it was a relatively small fire but still called for DR to spend the rest of the evening writing up a report.
Before marrying my husband I never realized a grain elevator could be such a dangerous place. The longer I've been married, the more dangers I've become familiar with; grain dust explosions, accidents occurring while moving train cars, semi trucks, electrical safety (electrical + grain dust = scary) and (the the most frightening for me) men scaling the very high grain bins. Every time DR comes home and tells me he spent the day on top of the elevator chills go up my spine and a silent prayer goes to God thanking Him for keeping DR safe that day.
The dangers that grain elevator employees face aren't just during the harvest season; it's all year long that they are faced with staying safe. Over the years grain companies have implemented increasing safety standards to prevent such accidents from occurring...but accidents still happen.
I ask you to say a prayer for the injured elevator workers today and for all of those throughout our country who climb bins. Because it's a very scary thought that this picture.....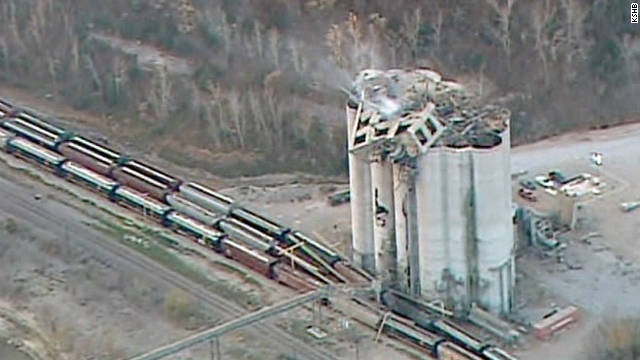 ...could have very easily have been DR's elevator.
And the injured could have included my husband.