So sorry it's been a few days since I've posted. Substitute teaching, sick kids, Christmas programs, doctors appointments...I've been running everywhere! Blogging has had to take a back burner.
But good news for my blog, according to the weather I will be stuck at home for a while so maybe I'll catch up on some posts! After Kansas enduring the driest and hottest year on record this year it looks like we are going to get all of our moisture at once for 2011.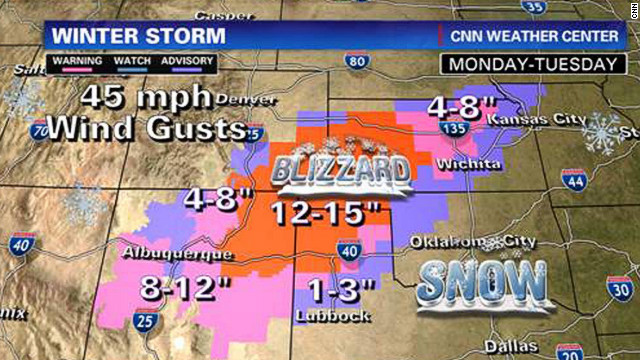 This is our forecast for the next 24 hours. We are right under the "R".
Yay!! A Blizzard!!! A White CHRISTMAS!!
I say "yay" but I'm pretty nervous. If I were in Indiana I wouldn't be too worried about a foot of snow but being out here in Kansas this could really screw some stuff up. I really doubt that Kansas is ready to deal with this much snow and ice. Oh yeah...ICE...cuz it's been raining all morning with temperatures quickly dropping to freezing. I doubt they have bunkers full of salt and I couldn't even tell you if SW Kansas has snowplows. Add in the fact that there are so many people living far from towns on not the best roads, this blizzard could strand a lot of people at home. Stranded at home wouldn't be bad, people have been stocking up for this storm all weekend but I'm just hoping that we don't lose power for too long. That could be disaster for some of the more rural folks.
So keep the Southwest, me and all my Kansas friends, in your prayers today!
And I hope you are blessed with a white Christmas too!